SEB 0,2-6,0 tons/hour
SEB Series Electric Steam Boiler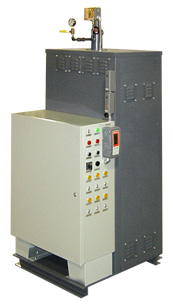 AMELIN resistive steam boilers have been designed to meet the high standards of quality similar to that applicable to hot water boilers. Low pressure boilers are designed according to Section IV, ASME Codes and Standards; high pressure boilers are designed according to Section I, ASME Codes and Standards. Quality control components, such as McDonnell & Miller water level controls, Bussmann Class T safety fuses, and no-contact step controllers, keep operational costs as low as possible for years. Extended service life Incoloy alloy-coated elements with the specific power rating of 70 W can be replaced individually thus significantly reducing the replacement costs. SEB series steam boilers by AMELIN have vertical tank with the steam header of appropriate height to reduce the condensed moisture entrainment. Some of AMELIN boilers designed for the use of low pressure steam are fitted with internal moisture separators. The majority of models are shipped with combined condensate return/feed water supply systems.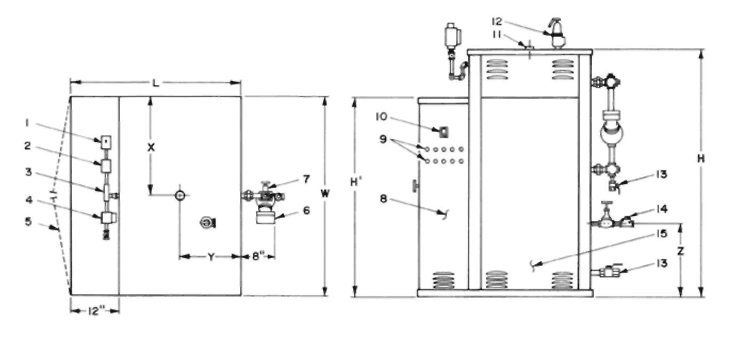 | | | | |
| --- | --- | --- | --- |
| 1. | Pressure switch (manual release) | 9. | Indicator lamps |
| 2. | Pressure switch (automatic release) | 10. | Low pressure switch |
| 3. | Pressure sensor | 11. | Steam vent |
| 4. | Pressure regulator | 12. | Safety valve(s) |
| 5. | Hinged door | 13. | Blowdown valve |
| 6. | Low water level/pump controller cutoff valve | 14. | Feed water valves |
| 7. | Level gauge | 15. | Detachable panel(s) for access to the elements |
| 8. | Control cabinet | | |
Economic and Process Advantages of the SEV Series Electric Steam Boilers by AMELIN:
Fast startup and instant shutdown. The time required to achieve the set thermal capacity never exceeds 5 minutes after startup.
Quick response to changes in the thermal load. Response time (to increase/decrease power) never exceeds 1 minute thanks to the efficient connection diagram of the heating elements cascade.
Stepless power control. Maximum capacity control range is 50:1 and supports smooth adjustment of the thermal output from max 100% to min 2%.
Compact design of the steam generator - can be installed where the area available for the installation is restricted.
Safe design - installation in dedicated area is not required, deployment at the industrial site is possible.
Eco-friendliness - there is no combustion in these steam generators, which eliminates completely the risk of the environmental damage from hazardous effluents.
No smoke stack required - lower construction and maintenance costs of the boiler plant.
Running steam generator does not need to be continuously attended by operators.
SEB series steam generator design ensures reliable and safe operation, and simple maintenance.
Average service life of an AMELIN SEB series steam generator is minimum 35 years..
Heating Elements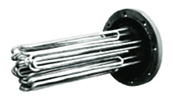 Submersible resistive heating elements coated with Incoloy alloy that are used in the steam boilers have the average specific power rating of 35 W/cm2 and ensure long service life. Elements are made of high grade high resistance wire (80% nickel, 20% chromium) coated with compacted magnesium oxide and a protective Incoloy 800 (SS 332) layer. U-shaped heating elements by AMELIN have a unique design with incurved repressed bends. This configuration enables optimal installation between sections of individual elements and between adjacent elements thus achieving maximum flow and thermal transfer. Custom fittings make it possible to have individual elements replaced with no special tools required.
SEB 0,2-6,0 tons/hour
Number of phases: 1 to 3 phases
Nominal voltage: 208V, 220-240V, 380V, 415V, 440-480V, 550-600V
Rated capacity: 132 - 3,900 KW
Thermal capacity: 0.110 - 3.25 Gcal
Steam capacity: 0.2 - 6.0 t/h
Operating pressure range: 0.2 - 5.0 MPa
Control range: 50:1
Efficiency: 99%
According to our commitment to continuous research and development we reserve the right to change any details on this page without notice.