Hot Water Boilers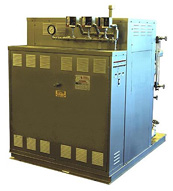 AMELIN hot water boilers (heat generators) offer low cost of hot water supply and excellent performance combined with compact boiler design. The reliable design of the highly efficient electric steam hot water boilers by AMELIN enables instant heat-up of the heat transfer agent. The design of the heat generators (hot water boilers) makes their installation easy and their start-up fast, and ensures reliability, simple maintenance and safe operation of the hot water boilers, making them the optimal choice for the following applications:
Installation – where the area available for the installation is restricted and where there is insufficient clearance above the plant. The footprint of AMELIN steam hot water boilers is 40-60% smaller than that of regular boilers. Hot water boilers can be assembled and disassembled without welding operations. AMELIN electric hot water boilers share the advantages of their compact single platform design that eliminates the need to erect dedicated capital structures, to design the plant and to install the hot water boiler onto the platform.
Short-term load fluctuations – changes in load are typical of many industrial sites with a hot water supply system. In this situation the efficiency of AMELIN steam hot water boilers is unrivaled. AMELIN industrial hot water boilers respond to thermal load changes instantly and efficiently. Response time is under 1 minute thanks to an efficient burner control system and the small volume of the circulating water in the coil pipes of the hot water boiler, which saves fuel and improves the general efficiency of hot water boilers.
Applications for AMELIN Heat Generating Systems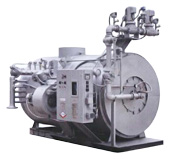 The whole range of the steam hot water boilers has found applications in the industry and public utilities where the boilers are used to build autonomous heating, ventilation and hot water supply systems:
Oil, gas and mining
Chemical industry and healthcare
Construction
Wood and wood processing
Food
Public utilities:
building autonomous hot water supply systems for heating purposes using hot water boilers:
− residential buildings;
− public buildings (schools, child daycare centers, hospitals, banks, clubs, etc.);
− sports and recreation facilities, resorts;
− dry-cleaning and laundry services;
− small and suburban communities.
Applications of AMELIN industrial steam hot water boilers are not limited to the industries listed. We ship hot water boilers. At your request we are able to ship steam hot water boilers of different capacity. The unique features of AMELIN industrial electric heat generators have helped our multiple customers to meet their internal process needs related to heat generation and supply.