Industrial Steam Generators
Industrial Steam Generators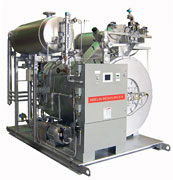 AMELIN industrial steam generators offer the low cost of steam generation and excellent performance combined with a compact steam generator design.
Reliable design of AMELIN's high performance electric steam generators enables instant supply of steam.
The design of the industrial electric steam generators makes their installation easy and their startup fast, and ensures reliability, simple maintenance and safe operation of the industrial steam generators, making them the optimal choice for the following applications:


Installation - where the area available for the installation is restricted and where there is insufficient clearance above the plant. The footprint of AMELIN steam generators is 40-60% smaller than that of regular steam generators. Industrial steam generators can be assembled and disassembled without welding operations. AMELIN diesel, natural gas and electric steam generators share the advantages of their compact single platform design that eliminates the need to erect dedicated capital structures, to design the plant and to install the industrial steam generator onto the platform.
Seasonal load fluctuations – in applications with fluctuating load, AMELIN natural gas and diesel industrial steam generators can be operated to efficiently meet the demand. AMELIN electric steam generators respond instantly and efficiently to any change in the load and start to supply steam in less than 5 minutes after they have been started, thus saving fuel and cutting the industrial steam generator's maintenance costs.
Applications for AMELIN Steam Generating Systems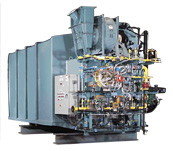 The whole range of the steam hot water boilers has found applications in the industry and public utilities where the boilers are used to build autonomous heating, ventilation and hot water supply systems:
Oil, gas and mining industries:
− injecting steam into oil reservoirs to boost the oil output;
− heating bitumen strata to extract bitumen;
− speeding up the unloading of rail tank cars in winter;
− removing the residual oil and chemical products from the inside surfaces of rail tank cars;
− heating of oil and fuel oil depots;
− mining operations;
− thermal treatment of open-pit coal mine workings in winter;
− deployment of industrial steam generator-based mobile heating units for harsh climatic conditions.
Chemical industry and healthcare:
− sterilizing medical appliances;
− creating optimal microclimate for the life activity of fungi and microorganisms;
Construction industry:
− steam curing of reinforced concrete products in curing rooms;
− heating up aggregates (crushed stone, sand) in winter;
− in highway construction (in asphalt production);
Wood and wood processing industries:
− drying of timber in kilns;
− pulp and paper industry;
Agriculture:
− thermal steam treatment using industrial steam generators;
− extermination of pests;
Food industry:
− meat processing and sausage making;
− brewing;
− food products and food products treatment;
Applications of AMELIN electric steam generators are not limited to the industries listed. We ship electric industrial steam generators. At your request we are able to ship diesel or natural gas-fired industrial steam generators of different capacity.
The unique features of AMELIN diesel, natural gas and electric steam generators have helped our multiple customers to meet their internal process needs related to steam and heat generation and supply.