НТТ 0.1-5.0 Gcal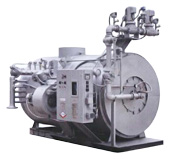 HTT series high temperature heating boilers by AMELIN are hydronic heating units with forced circulation. Liquid agent is circulated through the coil pipe bundle. Water, glycol, thermal oil or other high temperature organic heat transfer agent can be used.
Applications for HTT Series Heating Boilers:
heating, process and household hot water supply to industrial and agricultural operations;
heating and hot water supply services by public utilities, etc.
Operation Principle and Design of HTT Series High Temperature Heating Boilers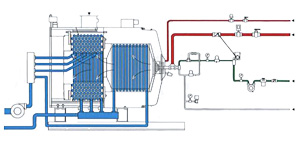 High temperature heating boiler is based on the forced circulation design in which the pressurized heat transfer agent is circulated through parallel coil pipes to which flue gases are supplied by forced draft. Flue gases envelope the whole surface of the coil pipe maximizing the utilization of both radiative and convective heat, thus maintaining high intensity of the heat transfer. Circulation pump maintains the flow rate and pressure appropriate to specific application.
Heat generator's control systems continuously monitor the temperature at the outlet of each coil pipe section and of the common manifold, adjust fuel and air feed rate to the burner, maintaining efficient combustion of the fuel throughout the heat generator's thermal load range. Liquid agent's high velocity and small volume in the heat generator enable instant response to changes in the load. Operational safety of the HTT series high temperature heating boiler is guaranteed by the integrated operational safety and safety interlocks system. HTT series heat generators have high efficiency throughout the operating range.
Economic and Process Advantages of the HTT Series High Temperature Heating Boilers by AMELIN:
Fast startup and instant shutdown.
Quick response to changes in the thermal load. Instant response thanks to an efficient burner control system and the small volume of the circulating agent in the coil pipes.
Stepless power control. Maximum capacity control range is 10:1 and supports uninterrupted supply of heat to consumers avoiding the need to cyclically start up and shut down the plant at low loads.
Wide output range. Outlet temperature up to 400°С.
Fuel flexibility. Natural gas, propane, diesel. All that has to be done to switch the multi-fuel burner heat generator from one fuel to another is to turn the fuel switch.
Minimal loss of energy at preliminary blowdown. Compact design accelerates the preliminary blowdown procedure.
Low fuel consumption. Combustion air is preheated to ensure clean burning.
Separate combustion chamber. Prevents soot from precipitating on the coil pipes due to incomplete burning of the liquid fuel.
Compact design (30% smaller footprint).
High safety level. UV flame scanner, operation controller and failure alarm, coil pipe individual temperature control guarantee reliable operation, simple maintenance, and safety of the heat generator.
Coil pipes have long service life - 35 years.
Running hot water coiler does not need to be continuously attended by operators.
According to our commitment to continuous research and development we reserve the right to change any details on this page without notice.